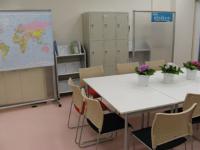 Nishitokyo City Multicultural Center
Offers everyday living information, volunteer information, and other materials in multiple languages.

Nishitokyo City Living Guidebook
A multiple language version of Nishitokyo Living Guidebook (Kurashi no Benricho).
Articles can be read in Japanese (using only basic words), English, Chinese and Korean.
Nishitokyo News Letter
An excerpt of the city bulletin in Japanese, English, Chinese and Korean.
It is issued around the 5th day of every month. It can be downloaded from this page or a copy can be obtained at the city offices, libraries, city community center and Nishitokyo Multicultural Center.

Japanese Classes by Volunteers in Nishitokyo
A list of volunteer operated Japanese classes. If you wish to participate in the Japanese class, please select a location and call for further information.
Professional Consultation for Foreign Residents
Free professional consultation program offered to foreign residents.
The consultation sessions are carried out at various places in Tokyo .
Information related to waste sorting and Hanabus timetables are shown in multiple languages.
Introduction to Nishitokyo City and other information are shown.